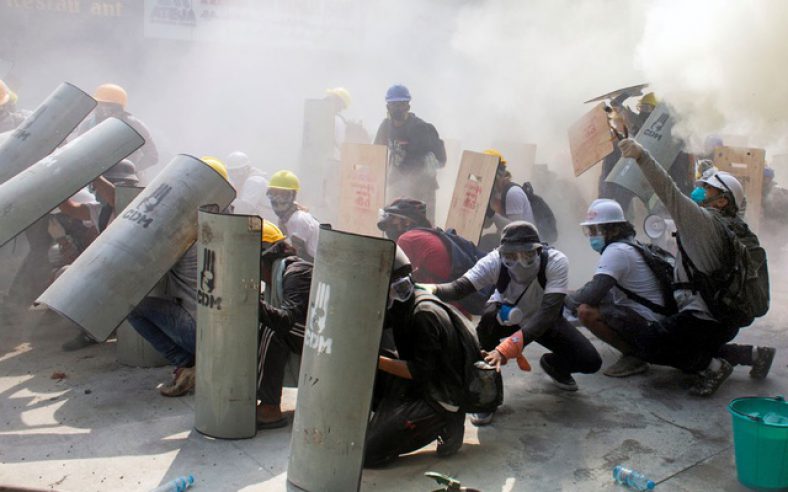 PBC News: Sparked by a coup a month ago, the recent turmoil in Myanmar has many Japanese companies on the alert for any signs of change in prospects for what they see as a promising market, reports Kyodo News from Tokyo.
The Myanmar military's seizing of power on Feb 1 and subsequent protests have cast a shadow over the Southeast Asian nation of 54 million people. An extended period of chaos may prompt Japanese firms to hold off on new investments and review their business strategies, experts say.
"We can say the coup is against democracy, but as one company what we can do for now is to keep close tabs (on what comes next)," an official at a Japanese company that does business in Myanmar said.
More than 400 Japanese companies have entered Myanmar, a key link between India and Southeast Asia, triggered by the county's shift from military rule in 2011.
Before the coronavirus pandemic and current turmoil, the economy grew 6.8% in 2019, ranking 10th as a market with growth potential over the next three years in a 2020 survey on Japanese manufacturers by the Japan Bank for International Cooperation.
Investment from Japan stood at US$768 million, or roughly 14% of total foreign investment between 2019 and 2020, and more than the $553 million that came from China, according to the Directorate of Investment and Company Administration, a government agency in Myanmar.
The Myanmar military declared a yearlong state of emergency and detained State Counsellor Aung San Suu Kyi, President Win Myint and other members of the ruling National League for Democracy. The coup followed the NLD's landslide victory in the November general election, an outcome disputed by the military as fraudulent. As international concerns grew over the turn of events, commander-in-chief Sr Gen Min Aung Hlaing pledged to carry on the foreign and economic policies of the NLD-led government.
"The military would not have imagined that international criticism would increase like this. There are no guarantees that they can rule the country in a stable way with public sentiment against the military growing," said Kei Nemoto, a professor specializing in the modern history of Burma (Myanmar) at Sophia University.
"Political instability will be a negative for businesses. There could be companies scaling back operations, ending joint partnerships (with Myanmar firms) and new investments would disappear," Nemoto said.