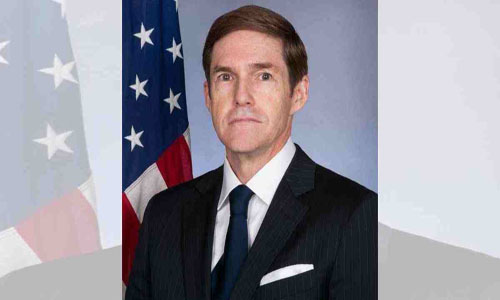 PBC News:  The United States has said it is actively considering the request made by the Bangladesh government over the supply of Covid-19 vaccine doses to meet Bangladesh's immediate needs.
Bangladesh will get a reply of the letter, sent to US Secretary of State Antony Blinken by Foreign Minister Dr AK Abdul Momen, within the next couple of days, reports UNB.
"Two things he (Ambassador Miller) said. It's (the request for vaccine doses) under active consideration and the Ambassador expects Bangladesh will get a reply as early as possible — within a day or two," said State Minister for Foreign Affairs M Shahriar Alam after his meeting with US Ambassador to Bangladesh Earl Miller.
While talking to a small group of journalists, including the UNB correspondent, at his office, the State Minister said they will be waiting to know the content of the reply.
Meanwhile, he said, US companies are in touch with the Health Ministry as they have a long-term plan of producing vaccines in Bangladesh.
The Ambassador informed that the US government is exploring the possibilities to produce US vaccines in Bangladeshi pharmaceutical companies.
The State Minister and the US Ambassador also discussed the ongoing cooperation between two countries in combating Covid-19 pandemic apart from the issue of providing vaccines for meeting Bangladesh's immediate needs.
The US Ambassador informed that his government is working on this, and he has recommended having a regional approach in South Asia in distributing vaccines from the US.
Earlier, Foreign Minister Dr AK Abdul Momen said the government has sought immediate delivery of 4 million vaccine doses from the United States.
The US will share up to 60 million doses of its Oxford-AstraZeneca Covid-19 vaccine with other countries as they become available.